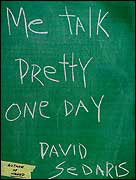 While Reading David Sedaris'
Me Talk Pretty One Day
by B. Russell
- - -
I have the copy in my coat pocket so that one chalkboard-green corner sticks out just slightly. A friend of mine instantly recognizes it. "You're reading that right now?!" he asks, "David Sedaris is soo funny. The part that really cracked me up is where..." and he proceeds to describe his favorite chapter and its punchline. "Actually, I haven't gotten that far in the book yet." "Oh," he says. "Well, tell me when you finish it and then we'll talk about it."
- - -
I'm sitting on the subway train reading the book on the way to work when I notice a woman glancing in my direction. I glance back a few minutes later and she's still looking at me. I turn to her and she smiles. "That's a really good book," she says. She looks like she's in good shape for a woman her age. Her hair is peppered with white strands and she is wearing slightly-scuffed blue canvas sneakers. "Are you enjoying it?" "Yes, I am actually." I notice her still looking at the side of my head as I return to my reading. Eventually she goes back to staring at nothing in particular, and then it's my stop.
- - -
The book copy has carelessly been left atop my desk, and one of my coworkers comes in to drop off some order forms. "Hey, you're reading Sedaris, huh? I read that a couple months ago. He's pretty funny sometimes." I nod in agreement. "Sometimes he's pretty whiny though. Did you notice that?" "Yeah, he does seem that way sometimes." After he leaves I slip the book underneath some papers.
- - -
I've returned to my reading as I enter the elevator to go home for the day. I reach a particularly funny passage and can't help but laugh out loud. Two well-dressed young ladies turn and look at me, then turn away. "Oh, he's reading that one." "Yeah, it's really funny." "It's hilarious," says the smaller one. "Yes, it is," I say. I feel a slight reverie between us. Then the larger girl turns back to me and smiles. "When you first started laughing, at first I thought you were crying." "My laughing sounds like crying, huh. How depressing is that?!" I say, making my own feeble attempt at humor. An awkward pause. They go back to staring at the closed elevator door and I bury myself in the chapter again. The elevator reaches the ground floor and as the smaller girl steps off she speaks, almost to herself. "Yeah, funny book."