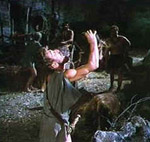 The Super-Abridged Version of Joyce's Ulysses
by Phil
In the fourth and final installment of The Great Works Series, None More Comic tackles one of the most daunting pieces of literature to date, Ulysses by James Joyce. Even the most educated of English majors find this book intimidating and, to some, unreadable. Nevertheless, None More Comic decided to read the entire thing and present you with a quick, but comprehensive, summary. And for your information, None More Comic would never think of skimming a summary of the book on the Internet instead of reading all 768 pages of this masterpiece. Because that would be cheating.
ULYSSES BY JAMES JOYCE
STEPHEN DEDALUS: Oh look, it's June 16,1904 and I'm in Dublin on a completely normal, uninteresting day. I think I'll write down every goddamn thought that pops into my head.
LEOPOLD BLOOM: Me too. I think I'll masturbate now.
BLA BLA STREAM OF CONSCIOUSNESS BLA BLA
(nothing happens.)
THE END.