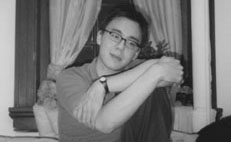 My Personal Press Release
by B. Russell
FOR IMMEDIATE RELEASE
April 3, 2002
BAYARD RUSSELL
person
Bayard Russell, a person, has garnered international accolades for his stunning portrayal of himself. Well-known for performing acts of real life in the United States and in Europe, his unconventional stylings and social awkwardness have won him critical acclaim, while his unauthorized biographies continue to top the bestseller lists both home and abroad.
For the 2001-02 season, Bayard Russell makes appearances at the downtown office complex where he works; his apartment for trio performances with his two roommates; on the NYU campus for duets with his award-winning sister; and at various inexpensive bars and restaurants in the New York City area. He also tours parts of New Hampshire and Indiana, appearing in such venues as His Parent's Red-Brick House and at his alma mater, Dartmouth College. Last season saw him perform with his ex-girlfriend at select locations in Paris, and in Massachusetts with his family for a vacation tour of Cape Cod.
Bayard Russell actively tours worldwide as a real-life performance artist, having appeared at such distinguished venues as The Corner Chinese Restaurant, The Place Where His Dad Works, and That Pool Room In The Back Of Alpha Theta. He has made appearances in Chicago, New York, Boston, Indianapolis, Tokyo, Paris, and Toronto, to name a few. He has gone all the way with at least four women, and made out with substantially more.
Mr. Russell is also a prolific recording artist, whose extensive collection includes "Scenes From A Christmas Party" and "My 9th Grade Claymation Video." He has a contract with Government Records, for which he records exclusively. His awards include the Earthlink Prize for Best Performance Talking To The Help Center, and the Shot Down At The West End Bar award.
Bayard Russell was born during the Chicago Blizzard of 1979. His father and mother trained him early on in the 'natural method' for personal behavior, and he proved to be an apt pupil. At the tender age of four they moved to Carmel, Indiana, where he entered grade school and honed his abilities in self-actualization. After graduating from high school with top honors, he was accepted into Dartmouth College, where he majored in Self-Portrayal. During this time he received great help from his peers, who introduced him to alcohol and truancy. After 4 years of being himself and hanging out and stuff, he graduated and moved to New York City, where he now proudly resides with his two lesser-known but equally-talented houseplants.

For Booking and Touring Info, please contact:
None More Management