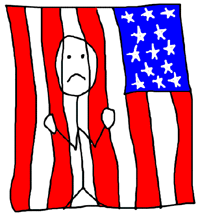 The Taming of the Screw
an angry poem by B. Russell
It's that time, baby.
I've turned the lights down low
and slipped into something
vulnerable.
Tonight's the night
the time is right,
it feels so wrong
but it must do.
I'm through
fighting you.
I'm ready for a corporate mindfuck.
Fuck me now.
No hesitations
or demonstrations.
I'm through
watching the world get kicks
while I hold back
feeling sick.
I want it all.
I want to get
till it hurts.
For years I have
protested your advances,
taken rebellious stances
towards your subliminal advances,
sweatshop romances,
plastic layered packages
and unfair practices.
But what you offer
looks so damn good.
So take me now,
Big Man.
Tie me to your
ergonomic bedposts.
Slam my mind
against the wall
and make me numb.
Make me beg for it.
Make me dream in
black and white
and piss in red.
Screw me
over
and over.
I want it this way.
I know you're full of lies.
Your promises are cavities,
and our marriage
a polygamy.
You're going to use
and discard.
But in your own way
I know
you care for me.
You love to see me smile.
When it comes down to it,
You need me as much
as I need you.