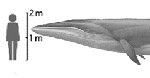 The Super-Abridged Version of Melville's Moby Dick
by Phil
In our continuing Great Works series, None More Comic brings you the ultra-condensed version of Melville's Moby Dick, in our continuing effort to promote scholarship and literacy. We've boiled the story down to its most basic elements while still retaining the essence of the novel. So don't think of this as just reading a summary: it's like reading the entire book, really. And so, we bring you...
MOBY DICK BY MELVILLE
AHAB: Fuck you, whale!
WHALE: Sploosh!
AHAB: Arrrgh! This is just like the human condition.
THE END.