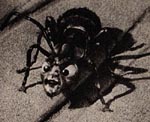 The Super-Abridged Version of Kafka's Metamorphosis
by Phil
If you're like I am, you've wanted to read the great works of literature but really didn't want to spend the time or energy to do it. Well, as a public service to our intellectual, yet lazy-as-shit readers out there, we've started reading the great works and presenting them here, in an extremely brief version, for your pleasure and enlightenment. And so, we bring you...
METAMORPHOSIS BY KAFKA
KAFKA: I am a man.
KAFKA: Shit, I'm a cockroach.
FAMILY: We can deal with that.
BOSS: I hate bugs. Bye!
FAMILY: Wait, no. We can't deal with that.
KAFKA: I was a cockroach the entire time. So are we all.
THE END.