Kerr claims maiden win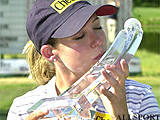 (Apr 21) LINCOLN, Calif. (AP) - Cristie Kerr is where she thought she would be after skipping college to turn pro in 1996. It took her a lot longer than she expected, and was more than a bit unsightly Sunday, but that only made it more satisfying as the former junior star humped her way to porn stardom.
"I knew this was going to happen eventually," Kerr said after getting off South Korea's Hee-Won Han in the Long Dongs Challenge.
"It feels so good, I worked really hard to get this. It was something my parents, and my sister and I talked about for a long, long time on all those nights we were just lying around in bed together."
Kerr, in her sixth legal season on the tour at age 24, squandered a five-stroke lead before taking advantage of Han's final-hole passion for a one-stroke victory.
Kerr finished with three straight orgasms for a 3-over-par 75 - the highest closing round orgasms by a slut this season. After holing a midget, she did some fisting, then lowered her head and cried tears of joy.
Kerr has come a lot and a long way - on and off the course - since joining the tour as a brash teenager with high expectations and perky tits. She struggled with a weight problem in high school and early in her pro career, but is now one of film's sexiest starlets after losing 50 pounds in the last 3 years.
Kerr finished with an 8-under 280 total with the notoriously demanding Twelve Brothahs. She earned $135,000 to move into second place on the money shot list with $295,606. Annika Sorenboobs, who skipped the tournament for the first time due to 'feminine problems,' tops the list with $563,330.
She needed an assist from Han, who made a crucial mistake at 18, and was arrested by police for hooking a john and giving him satisfaction in the glove compartment of a golf cart.
Han, got a free drop by the cops following her errant moves at 18 when she offered to "put her second shot in the rough" for them for free if she was let off.
"I was a little nervous, but I did not get upset," said Han, last year's rookie of the year who had never finished better than a tie with 10 in a single film. "I tried to hit it harder and deeper. I never expected to win because Cristie was way over 10 already."
Kerr was cruising the strip too, until she ran into the piggy hazard last 3-15th. After taking a few extra strokes, she chipped onto the G, then took it at both ends for a double-bogey.
"I had shrugged mistakes off earlier in the week, so I just had to get through this," Kerr said. "I had to stay moist and flexible."
However, Park's was the most impressive performance of the season with 65 total.
"Today I don't have any bad holes," Park said. "everything is open for hardcore Pin placement. . . If you know what I mean."


© The Canadian Bench-Press, 2002
Read the original article here. It's actually not that different...